Welcome to my new site
Welcome to my art web, I hope you enjoy visiting my site and gain as much pleasure looking at my artwork as I have had in producing it.
I am a pastellist, and most of the work you will see is painted in soft pastels, a wonderful medium that has an amazing luminosity and because its pigments are 100% pure, a pastel will always retain its true colour, unlike other mediums that can fade in time.
I have recently been introduced to oils, water colour and acrylics and am enjoying learning these new mediums.
I paint because I enjoy it and I do it to please myself and to bring joy to others. It brings me a sense of peace and gives me the opportunity to express myself in my own way.  Most of my work is inspired by life experiences such as animals I have been associated with, or places I have been. My paintings can be found in private collections in Australia, New Zealand, the UK and the USA.
Thank you to all those that have supported me and my journey.
Painting is a great escape from my all too busy life.
"Jane is a truly remarkable and passionate artist who paints only what she has experienced in person. Her ability to show with a few deft pastel strokes that which other less talented artists would take hours to do and still not achieve has always truly inspired me!" STEVE MORVELL WILDLIFE ARTIST
  Please note colour varies on each computer monitor and may look different from the original work.
Visit Exhibitions & News for upcoming exhibitions 2019
 Recent Portraits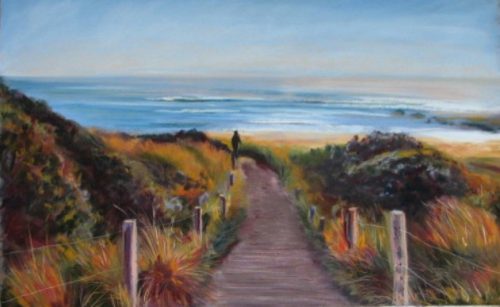 "Solitude"
A lone walker enjoys the solitude of an evening walk
down to  Warrnambools Logan Beach
SOLD
This painting was awarded the best pastel award at the 2008 Ballan Art Show